TrueColor T4880 A2 size desktop digital t-shirt printer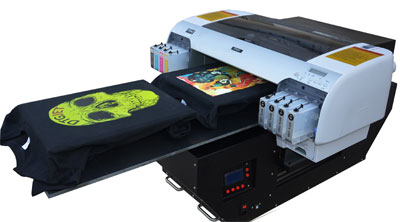 TrueColor T4880 A2 size desk top digital t-shirt printer, with flexible working area of 42*90cm, it can not only print 2 t-shirts per time, but also print full t-shirts. Based on Epson industrial design, TrueColor T4880 t-shirt printer obtains the largest printing capability, help customers realized industrialized printing. The shops owners and t-shirt factories express more preference on TrueColor T4880 t-shirt printer. TrueColor T4880 is for long-term consideration and large printing quantity.
Special features:
A2 size working area: 420*900mm, 16.5*35.4 inches.
Desktop design for economic shipping freight, and easy moving
Dampers system with fluent ink flow
Vivid colors by Korea imported inks
Two t-shirts printed per shot
Full t-shirt printing available.
Daily printing quantity: 150-260 t shirts per day
Application: Direct Garment printing includes: t-shirts, Sweatshirt, Fashion collection, Paradigm Shirt, Personalized footwear, Jeans, Non-woven bags.
This product has the following features:
All the parts including the head, main board, pump, cables,etc are much easier to get in the clients local area.
The problems for the matching between the main board and the head are totally avoided.
The dtg machine is easier to get support from the Epson service center in the local areas.
Specifications
| | |
| --- | --- |
| Model | TrueColor T4880 |
| Max Printing size | 16.5"*35.4" (420*850mm) capable for two pcs of t-shirts |
| Photo quality | 2880*1440dpi |
| Ink type | WATER BASED |
| ink channel | 8 color (4-CMYK, 4 White) 180 nozzles/ color. Optional dual CMYK. |
| Printing interface | USB 2.0 high speed interface & 100 Base-T Ethernet interface |
| application | materials : cotton t-shirt, fabric, polyester |
| Printing method | Drop on Demand (non-contact micro piezoelectric ink-jet printing technology; micro piezoelectric printing technology; VSDT; intelligent nozzle clogging sensor system). 180nozzle/color*8; VSDT |
| printing speed for one t-shirt | ≈1.5min/A4 Size |
| Production capacity | 260pcs t-shirts/8 working hours |
| white ink printing for black t-shirt | t-shirt RIP for better printing |
| Auto adjustment function | Nozzle automatic detection; print head automatic aligning. |
| Machine size | 1200*900*650mm |
| G.W. | 150 KGs |
| Height adjustment | Auto Sensor |
| Normal working environment | 10-35°Chumidity 20-80RH |
| Power/ Voltage | ≈75W / 110V/220V 50-60HZ |
| Operational software | Compatible |
| Machine configuration | USB line; driving software; power line; instruction book; washing and ink-joiner tools |
| Operation system | Windows 2000 / XP / WIN7/ Vista, etc. |

Contact DTGJET today for additional information, to receive custom samples or to schedule a demonstration of these tabletop/desktop T-shirt printers.