Custom T shirts printing Business opportunities
Growing with our users and analyzing the Direct to Garment, DTGJET does not only provide the products but also our ideas and successful business runners experiences about how to start or how to enhance the existing business for quicker investment return.
New business Starter. To play to make high profits.
Wondering what to do after graduation, quitting the bad boss or want more money during spare time in a small investment but with quicker and high return? Take a look at DTG solution.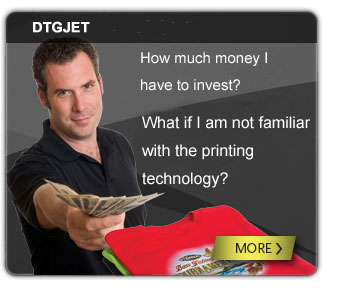 What I need to have to start?
Initial idea to run an own business. To be your own boss, want financial independence, want to be creative freedom, maximize the value of skills and knowledge.
A computer to work with.
Able to work with common photo program.((Photoshop, CorelDraw, Illustrator, etc)
A room or place at home with an area around 3-5square meters.
Able to work with website or have relations with promotional industry.
You are ready for the business.
How much money I have to invest?
For a starter, we recommend the elementary level of
direct to garment printing system
which is flexible, smart, and easy to work with but productive ( 10-20 sets of shirts/hour). The whole project will need just around 1,500-2,000USD. Evaluate your investment and go for it.
What if I am not familiar with the printing technology?
This sector is important for you and more important to direct to garment team. We have our
customer service and training team
ready for you until you get your desired products and all the capabilities to play with your printers for all the aspects regarding the problem shooting and daily maintenance.
How can I market the products?
The market is huge for your products. The most fast and efficient way for the marketing is online marketing by making your website with your designed garments. And the possible clients are: meeting occasions, company activities, public holidays, Scene places, important private occasions (birthday, memory date, etc), and to more.
Ask yourself those questions now:
What is my competition?
What are my advantages over the existing business runners?
Can I provide a better service?
How long time I expect and what I can do to get a success?
Existing Business Enhance or expanding if you are running:
Printing business, Garment factory, Embroidery business
Digital Printing business in hand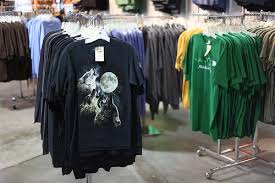 If you are already in the printing business for promotional things, you have already resources for your existing customers who just need to get a new business message even its easy but very valuable to expand your business. In many cases, your customers want their printed artwork from other materials to garments like t-shirts, towels, and others. By the addition of DTGJET, you can get thousands of business opportunities for the customers passing by your doors and windows. As you have got the trust from your customers, therefore, it's easy to get their orders by new products and production abilities. Publishing or launching the new garment printing business is easier if you have an existing printing business already.
When your customers pick up their orders, or you deliver an order, pack a creative sample garment t-shirt, towels, or other items that includes their printed previously in their order ,their logos, your logo and some info on the new service you are now offering. With a little creativity you can craft a design that is attractive enough that your client will not only be led to consider putting orders for garments from you - they might even give you some free advertising by wearing the shirt in public.
Garment factory Embroidery business running in hand

If you are an garment factory making quantity productions for some big customers, but you are in a embarrassing situation: many small customers are asking for small quantity printing but you cannot deliver or accept the order as the cost is too high by traditional ways like silk screen and heat transfer or even sublimation printing. Two ways or methods, DTGJET can help to enhance the business:
Accept any order in any quantity without any MOQ to your customers. No limit for your customers any more; you can produce their orders in some minutes even. You catch more small customers and sometimes in many situations the small orders are more with more profits and get better money than the big orders.
Sample printing for your clients to show your creative design or draft in low cost. To make you or your designers more happy by making their ideas and innovation to real products.
Compare DTGJET printing solutions to:
Heat transfer printing
The heat transfers uses high temperature heat and pressure to embed ink into the surface of the garment's material therefore realize the surface decoration purpose. The printing steps are much easier from DTGJET: Print and color fixing with heat press. But the heat transfer needs more steps: You need to buy the heat transfer paper, an inkjet printer and heat press. Firstly print onto transfer paper, then put the transfer paper with printed artwork onto the right place of shirts, then heat press. The prints from DTGJET are a much higher quality printing method than heat transfers.
Screen printing
The Screen printing is with high production cost and also labor deeply involved setup. With
DTGJET printing solutions
, there is no set-up cost at all. This system allows you to produce small or big orders in the same cost and much better cost then the screen printing method. Our advantage is in the small orders even just one shirt or any other garments. Screen printing cannot deliver as much detail nor as many colors as direct to garment systems, but the colors that are screen printed are more vibrant in less cost for big quantity orders. Screen printing also has a wider range of ink choices for example you can print metallic or glow-in-the-dark, and can be used on polyester materials that
direct to garment water based pigment inks
cannot stick to.
Dye Sublimation
Actually both DTGJET and dye Sublimation are different forms of digital printing, meaning that both translate digital images from a computer onto a garment. The main difference is that dye sublimation uses heat to push ink straight from the solid form to a gas, thus skipping the liquid form that DTG is completed in. The gas that results from the use of heat infuses the material's fibers and allows for printing on polyester, which DTG cannot do reliably but the gas is not environment friendly as you know.